Special Price For Institutions
New Tesla GPU Prices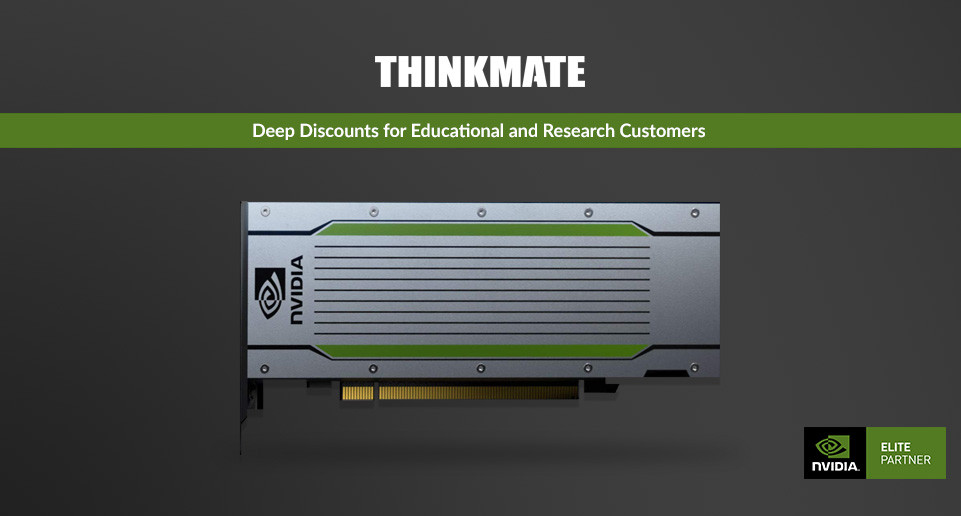 NVIDIA Tesla GPU Discounts for Educational
and Research Customers
Qualified Education, Research, and NVIDIA Inception startups are entitled to special pricing on the following NVIDIA Tesla GPU cards purchased from Thinkmate.
NVIDIA Tesla GPU Prices
*Before discounts - Prices accurate as of May 2019
---
How to take advantage of this offer?
Your Thinkmate account manager will need to manually apply these discounts as they will not automatically appear in the Thinkmate configurator. You can browse and configure any workstation or server from the list below. Once you have your system configured, simply click on the "Request Formal Quote" or "Summit for Review" buttons in the configurator and a copy of your configuration will be sent to the sales department. Your Thinkmate account manager will then apply all the appropriate discounts and send you an updated price for your configuration. You can also call us at 1-800-371-1212 and our sales team can assist you with configuration and pricing.
Education Pricing Eligibility Requirements
Offer valid from April 27, 2020 until July 26, 2020
A public or not for profit K-12, vocational school, junior college, college, university, scientific or technical institution with a primary focus on teaching students
For use by students or employees of an education institution with .edu or .ac email addresses.
If .edu or .ac are not in email domain then the institutions name should be clearly recognizable as educational affiliation
State or local government-sanctioned agencies that purchase on behalf of a pool of school districts, community colleges, or other small educational institutions are also eligible
Organizations and people directly related to the academic institution (e.g. hospitals that are wholly owned and operated by an education institution) are also eligible
For-profit institutions (e.g. training centers that operate a business) as well as students, teachers, lecturers, researchers and tutors affiliated with such institutions are not eligible.
Compatible Workstations and Servers
Thinkmate GPX Servers featuring Tesla GPUs
Thinkmate GPX-WS Workstations featuring Tesla GPUs and TITAN RTX
Thinkmate VSX Workstations featuring TITAN RTX