Specs
NVIDIA Quadro update comparison
Compare the new Pascal-based quadro cards side by side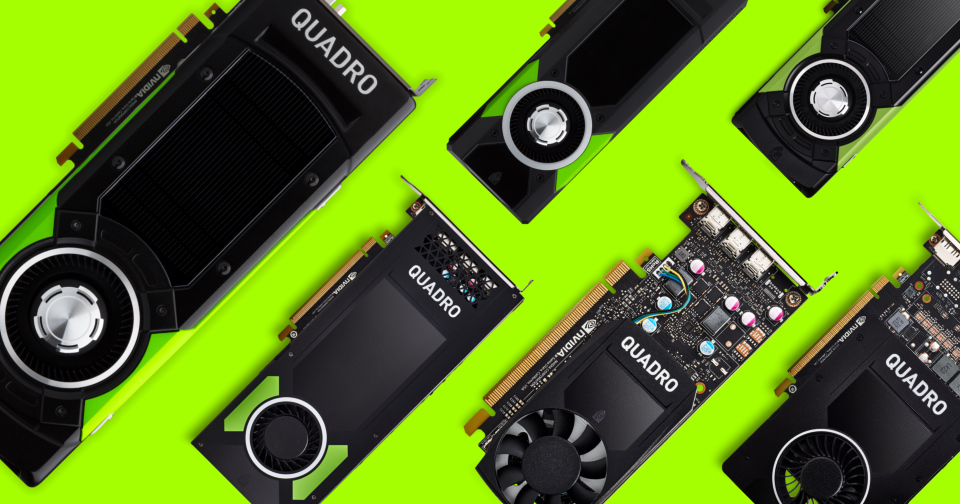 The new Quadro cards are here. Designed to help users streamline their professional workflows, The new Quadro cards now come with the latest GPU architecture developed by NVIDIA: Pascal. The complete lineup is now comprised of 8 cards, from the entry level P400 to the unique, ultra-high-end GP100, a card capable of transforming a workstation into a true supercomputer.
Before telling you why you would want a Quadro vs. a Tesla or GeForce, let's dive right in to the entire lineup and compare raw specs.
Quadro Specs
How do these cards compare?
As you can see above, each card in the lineup has a different number of CUDA cores, memory and power consumption to provide you with the right card for the amount of compute you need. But what else do they differ on?
First, let's begin by learning the most notable features they have in common:
Pascal GPU Technology: All cards are based on a new 14nm FinFET process technology that enables higher performance and lower power usage.
H.264 and HEVC Encode/Decode Engines: These dedicated encode engines work independently from the 3D/compute pipelines and can deliver faster than realtime performance for transcoding, video editing and other encoding applications.
Pascal Memory Compression: Increases bandwidth by up to 20% by reducing the amount of data fetched from memory for each frame with fourth generation, lossless delta compression.
Quadro features not found in GeForce or Tesla
As a card geared towards professionals, Quadro cards offer features that cannot be found in either GeForce or Tesla, particularly when it comes to display manipulation. The most notable are:
NVIDIA® Quadro® Mosaic Technology: Transparently scale the desktop and applications across up to 4 GPUs and 16 displays from a single workstation while delivering full performance and image quality.
DisplayPort 1.4: Support up to four 5K monitors @ 60Hz, or dual 8K displays per card. The Quadro GP100 supports HDR color for 4K @ 60Hz for 10/12b HEVC decode and up to 4K @ 60Hz for 10b HEVC encode. Each DisplayPort connector is capable of driving ultra-high resolutions of 4096x2160 @ 120 Hz with 30-bit color.
NVIDIA® nView® Advanced Desktop Software: Gain unprecedented end-user control of the desktop experience for increased productivity in single large display or multi-display environments.
NVIDIA® Quadro Sync II: Synchronize the display and image output of up to 32 displays from 8 GPUs (connected through two Sync II boards) in a single system, reducing the number of machines needed to create an advanced video visualization environment.
Frame Lock Connector Latch: Each frame lock connector is designed with a self-locking retention mechanism to secure its connection with the frame lock cable to provide robust connectivity and maximum productivity.
OpenGL Quad Buffered Stereo Support: Provide a smooth and immersive 3D Stereo experience for professional applications.
Ultra High Resolution Desktop Support: Get more Mosaic topology choices with high resolution displays devices with a 32K Max desktop size.
Professional 3D Stereo Synchronization: Robust control of stereo effects through a dedicated connection to directly synchronize 3D stereo hardware to a Quadro graphics card.
NVIDIA® CUDA® Parallel Computing Platform: Natively execute standard programming languages like C/C++ and Fortran, and APIs such as OpenCL, OpenACC and Direct Compute to accelerates techniques such as ray tracing, video and image processing, and computation fluid dynamics.
Unified Memory: A single, seamless 49-bit virtual address space allows for the transparent migration of data between the full allocation of CPU and GPU memory.
NVIDIA® GPUDirect for Video: GPUDirect for Video speeds communication between the GPU and video I/O devices by avoiding unnecessary system memory copies and CPU overhead.
NVIDIA Enterprise-Management Tools: Maximize system uptime, seamlessly manage wide-scale deployments and remotely control graphics and display settings for efficient operations.
---
More from Inside Thinkmate