New Platform
Xeon Scalable - What you need to know
New platform, New Branding... We're here to help you make sense of it all.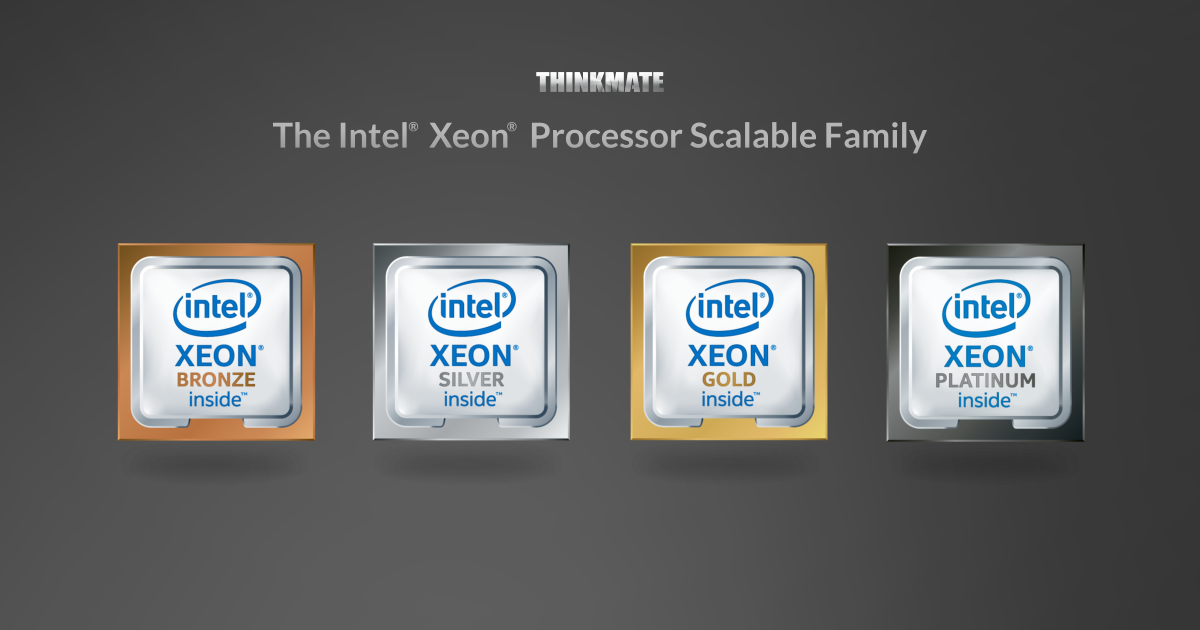 The wait is over and we can now release official information about Intel's biggest data center launch in a decade - Purley. Intel is doing things differently this time, bringing with this launch a completely new branding for Xeon. On this article we will cover these details, as well as show you the launch lineup that is available now.
What is Purley?
The Purley platform represents a unified stack of branding and technologies to the business, enterprise and data center markets.

At launch, Purley is comprised of the following:


Lewisburg Chipset: Purley features a new platform core-logic with Lewisburg. It features the new DMI3 chipset-bus, which translates to four lanes of PCI-Express 3.0 physically. On the networking front, Lewisburg offers support of up to four 10GbE interfaces.


Skylake Processor: Built on the 14nm process, Skylake CPUs launching with Purley will feature up to 28 physical cores, with HyperThreading enabling 56 logical CPUs, and for the first time,support for 6 channels of DDR4-2666. The TDP will range between 45W and 165W depending on processor SKU.


Workload Accelerators: With this release, certain applications can benefit greatly from accelerators built by Intel, both on the die and via software. Some of these accelerators are:
Intel® AVX-512 (2X FLOPs/core) for HPC, Analytics, Database and Security
Intel QuickAssist Technology: 2x faster crypto and compression
FPGA: 5X speedups on server, storage and network algorithms
New Fabric Technology: Purley replaces the InfiniBand technology with a newer, more advanced interconnect called Omni-Path. This technology allows for 100Gbps bandwidth with no loss of PCIe lanes.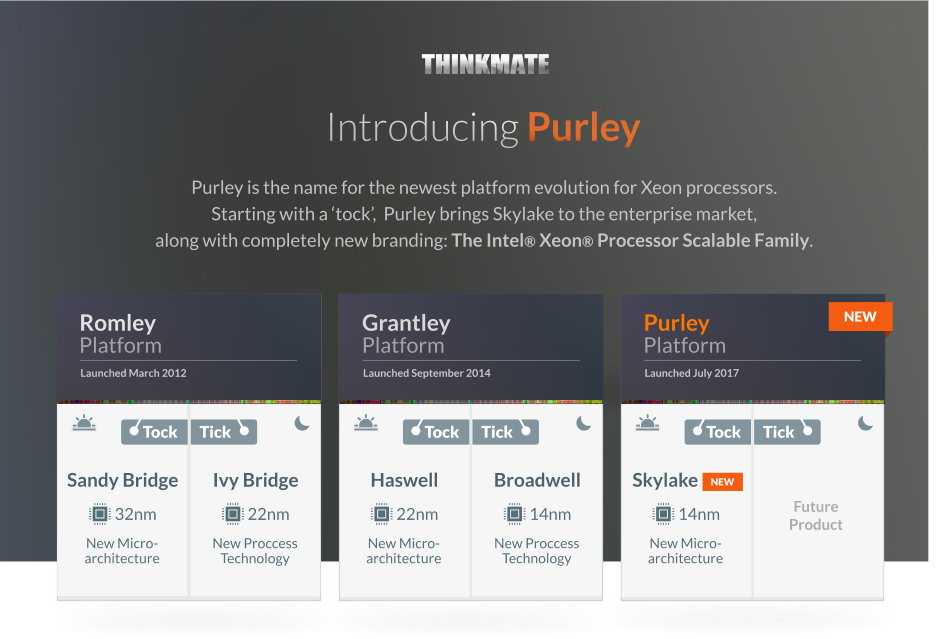 What's different from previous generations?
To put it simply, Purley has a ton of new capabilities and technologies: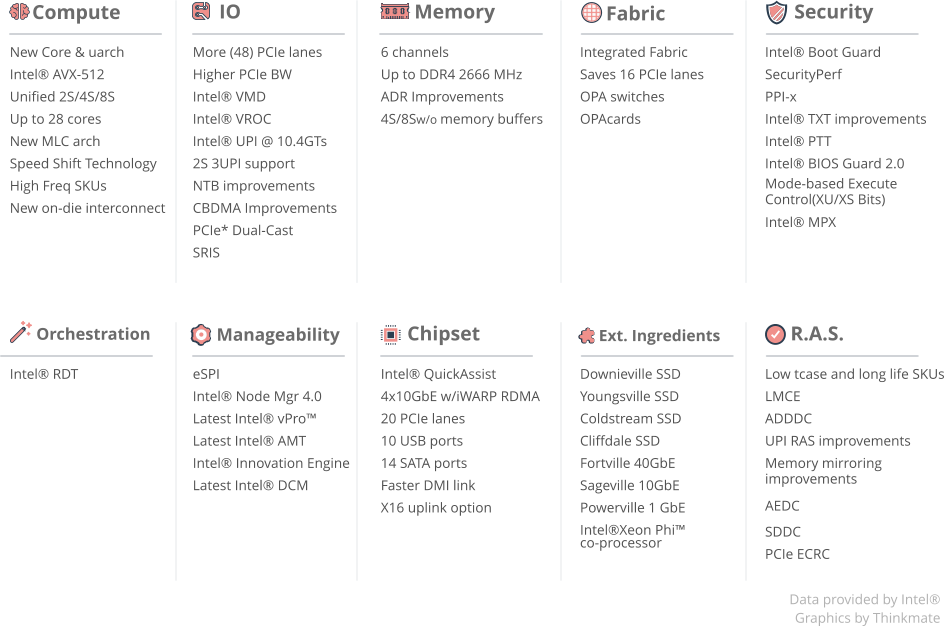 And here it is compared with the previous generation: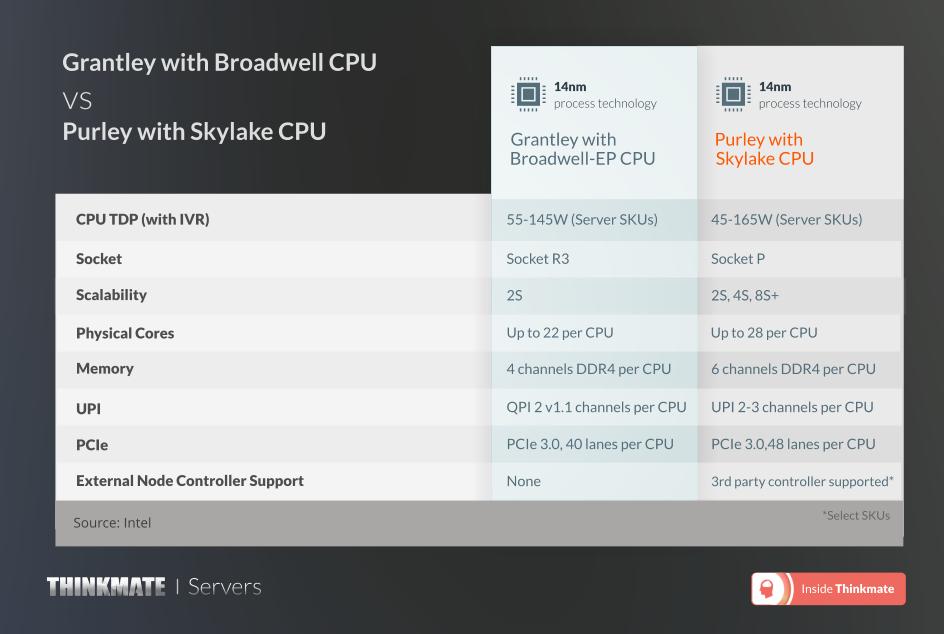 Goodbye E5 and E7, Hello Scalable Processors
After almost a decade without any major branding changes, Intel is introducing a major branding refresh for the Xeon family. The new branding is now based on metals and their relative values: Bronze, Silver, Gold and Platinum.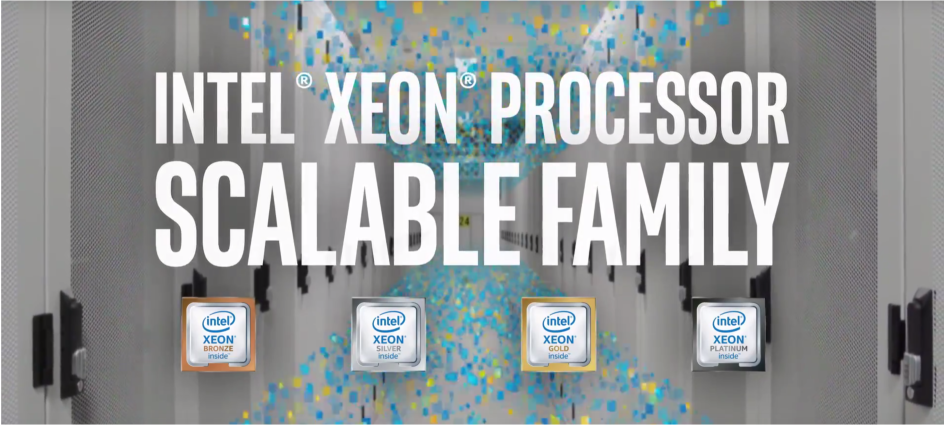 New branding, as seen on Intel's
official unveiling video
.
Up to 28 cores / 56 threads in Skylake-SP
Intel Xeon Bronze: Aimed at entry level servers, delivering performance similar to that of the Xeon E5. Bronze chips generally will have less than 10 cores.
Intel Xeon Silver: According to Intel, Silver CPUs will offer "efficient performance at low power" and have 10-12 cores.
Intel Xeon Gold and Platinum: These processors will offer E7-like performance, as well as the most number of cores per CPU. Compared to the lower end offerings, Gold will offer better performance, more interconnect and accelerator engines, while Platinum will expand upon that, with more cores and specialized security features baked onto the die.
Skylake-SP SKUs
Last generations's Broadwell-EP was already a monster, offering up to 22 cores / 44 threads for some serious processing power. With the launch of Purley+Skylake, Intel has taken it to the next level, offering up to 28 cores / 56 threads per processor.
We have provided a list of SKUs for you below. We are currently working with Intel to make sure that this list is accurate, so this data should be considered preliminary, at least for now.
SKU Name
Cores
Base
Clock
TDP
Skylake-SP
8180
28
2.5GHz
205W
8176
28
2.1GHz
165W
8170
26
2.1GHz
165W
8168
24
2.7GHz
205W
8164
26
2.40GHz
120W
8160
24
2.60GHz
135W
6154
18
1.80GHz
55W
6152
22
1.70GHz
65W
6150
18
2.60GHz
85W
6148
20
3.50GHz
135W
6146
12
3.40GHz
135W
6142
12
3.20GHz
135W
6138
20
2.10GHz
120W
6140
18
2.10GHz
120W
6136
12
2.60GHz
145W
6144
8
2.30GHz
145W
6132
14
2.20GHz
135W
6130
16
2.20GHz
145W
6126
12
3.00GHz
160W
5120T
14
2.60GHz
135W
5118
12
1.80GHz
55W
5119T
14
1.70GHz
65W
6128
6
2.60GHz
85W
4116
12
3.50GHz
135W
5122
4
3.40GHz
135W
4114T
10
3.20GHz
135W
4114
10
2.10GHz
120W
4112
4
2.10GHz
120W
4108
8
2.60GHz
145W
3106
8
2.30GHz
145W
3104
6
2.20GHz
135W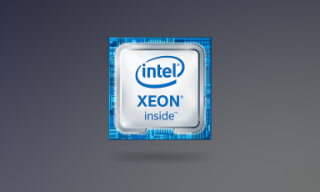 Skylake-SP
Skylake SP (Skylake Scalable Performance) is the code name for Intel's series of server multiprocessors based on the Skylake microarchitecture as part of the Purley platform serving as a successor to both Broadwell EX and Broadwell EP. These chips support up to 8-way multiprocessing, up to 28 cores, and incorporate a new AVX-512 x86 extension. Skylake SP-based chips are manufactured on an enhanced 14nm+ process and utilize the Lewisburg chipset. Skylake SP-based models are branded as the new processor families: Xeon Bronze, Xeon Silver, Xeon Gold, and Xeon Platinum.

Codename
Skylake-SP
Cycle
Tock
Process Node
14nm
Platform
Intel Purley
Socket
LGA 3647
Released
July 11, 2017
Predecessor
Broadwell-EP
Broadwell-EX
This release combines single and multi-socket versions for the first time
Sucessor
Not yet announced

Commonly used for
Software defined environments for data center, cloud and virtualization, Business Processing, R&D, Security,Cloud, Content creation and delivery


Core Count
Up to 28
Scalability
2S/4S/8S+
TDP
Up to 165W (Server)
Memory
6x DDR4 Channels
PCIe
PCIe 3.0
40x PCIe 3.0 Lanes
Source: Thinkmate Internal Data and
WikiChip
The SKU list is varied, With CPU cores ranging from 4 all the way up to the aforementioned 28. Clocks range from 1.7Ghz to 3.6Ghz. We're waiting for confirmation on L3 cache amounts from Intel, and we'll update once we receive them.
Comparing new branding vs old
Because Intel has completely overhauled the naming schemes, you may be wondering how you might be able to compare these new products vs. the old ones, which will not be retroactively renamed.
For this purpose, Intel has provided us a list of normalized performance numbers, which we are reproducing below. With this list, you should be able to have a better idea of performance relative to previously lanched products.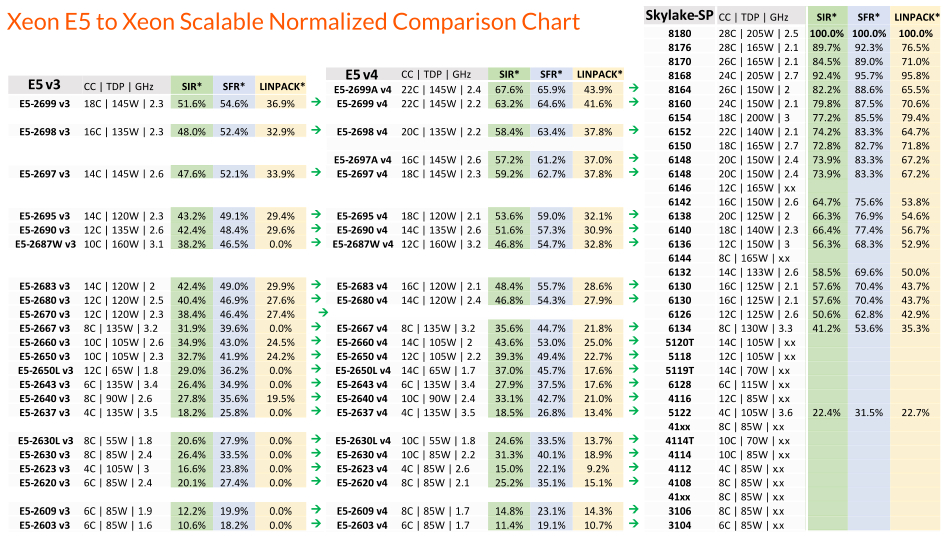 As you can see above, we have summarized the SKUs from the Xeon E5 v3 and v4 and aligned it with Xeon Scalable SKUs all the way up to Platinum 8180, sitting comfortably at the very top.
These results have been estimated based on internal analysis and are being provided for your convenience. Though it shouldn't be considered official, we think they can be helpful when upgrading and to help us get acclimated with the new branding. We are still going through the technical data provided to us by Intel, and we'll update this page if we feel there is something important to add.
Systems featuring Intel Xeon Scalable
We are happy to announce that we are the first in the industry to ship Thinkmate-branded Servers and Workstations featuring Skylake-SP processors, as well as Supermicro-branded servers and workstations from our Supermicro Store. Explore below:
Media Download
You can download the new Intel Xeon logos for 2017 in high resolution, transparent png format below.