Meet 'Kaby Lake'
Intel Xeon E3-1200 v6 Platform Guide
Tick and tock is no more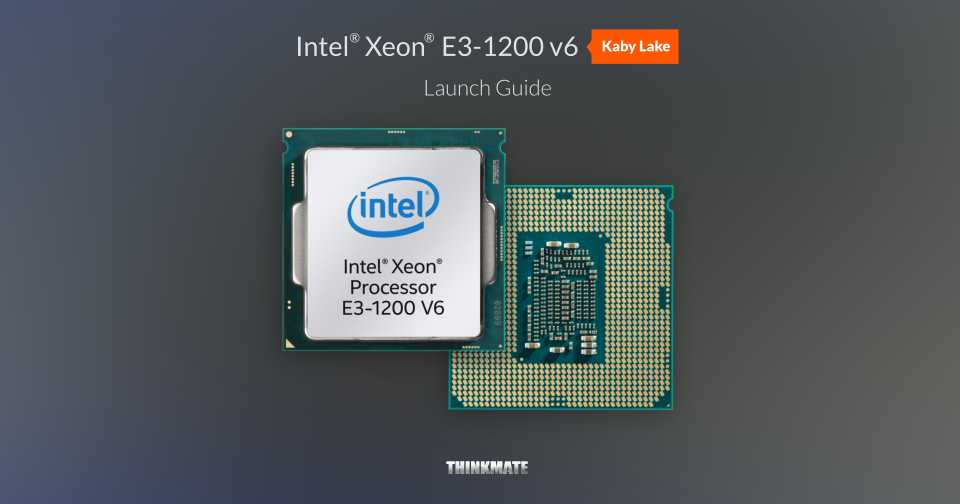 Last year when I reviewed Intel's E3-1200 V5, Intel had classified it as "Tock". It would only make sense that the next release would be classified as a tick, right? Wrong. For a while now, Intel has been warning us that eventually this system would be replaced. With the release of the "Kaby Lake" Xeons, this changes.

Why Optimize?
The original Tick,Tock structure was a representation of Intel's research and development efforts: A 'Tick' would represent a process change such as a shrink in the size of the silicon, and the 'Tock' would represent a change to the underlying microarchitecture, taking further advantage of the tick before it.
However, it has been well documented that manufacturing microprocessors have gotten so advanced that eventually that system would have to be replaced. The 'optimize' is a new step added to reflect these new manufacturing and R&D challenges.
Market positioning for the Xeon E3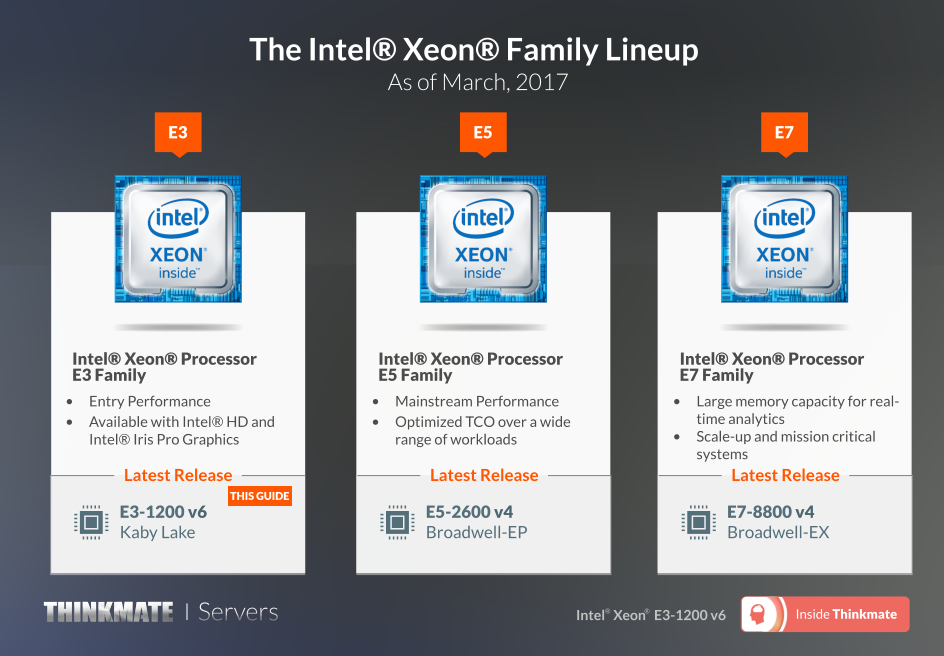 In most consumer markets, the lower and mid-end products tend to make up for the highest volume. This situation is a bit different in the case of Intel's Xeon Processors, with Intel's E7 and E5 being the flagship products.
With the release of the Xeon E3-1200 v5 last year, Intel has made improvements to the E3 lineup to make it more attractive, like integrating GPUs that offered performance levels that other integrated solutions could simply not attain. With the release of v6 Kaby Lake, Intel makes further improvements to the GPU by integrating the next-gen HD 630 GPU in the silicon, compared to the HD 530 found in the previous Skylake release.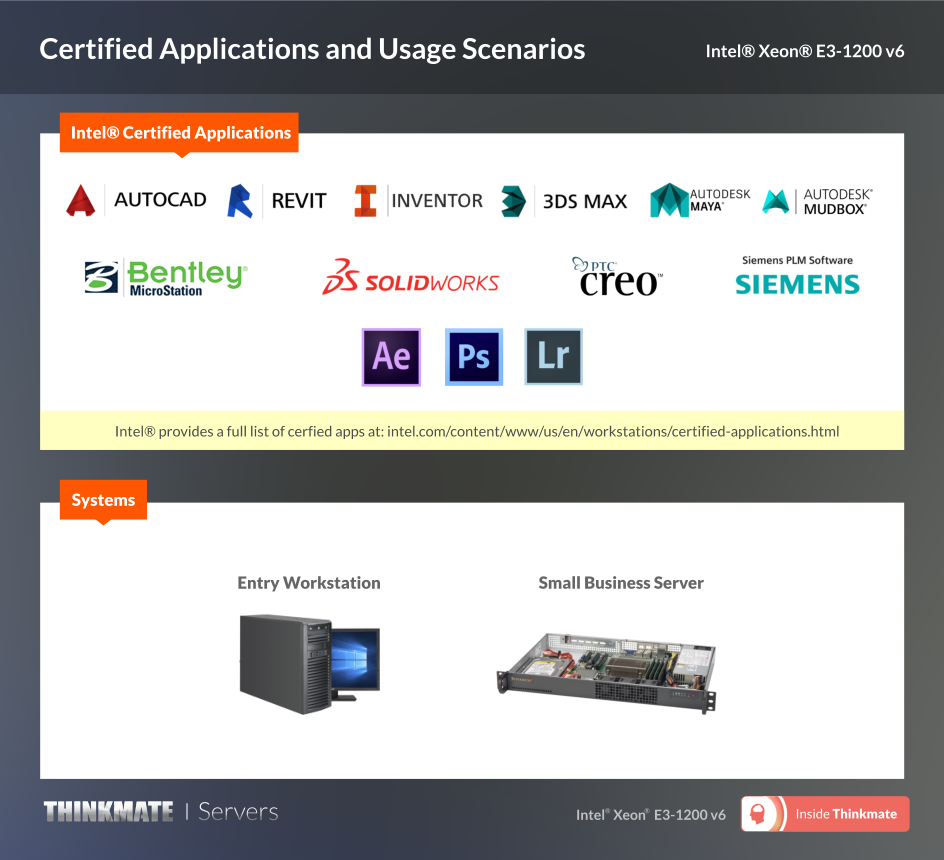 4 Cores Standard
With Kaby Lake, All processor SKUs are quad core. Like last year's Skylake Xeon E3s, these are Intel's only server product with Integrated GPUs, and thus the only one with support for QuickSync acceleration which can provice a massive boost to many applications.
Here's the SKU list:
SKU Name
Cores/
Threads
Max Turbo Frequency
Clock
Intel Xeon E3-1280 v6
4 / 8
4.20GHz
Intel Xeon E3-1275 v6
4 / 8
4.20GHz
Intel Xeon E3-1270 v6
4 / 8
4.20GHz
Intel Xeon E3-1245 v6
4 / 8
4.10GHz
Intel Xeon E3-1240 v6
4 / 8
4.10GHz
Intel Xeon E3-1230 v6
4 / 8
3.90GHz
Intel Xeon E3-1225 v6
4 / 4
3.70GHz
Intel Xeon E3-1220 v6
4 / 4
3.50GHz
Intel® Optane Technology
Optane is an all-new class of memory created by Intel (The first in 25 years, in fact), mixing Intel's expertise IP in 3D XPoint Memory Media, Storage controllers, Interconnect technology and software.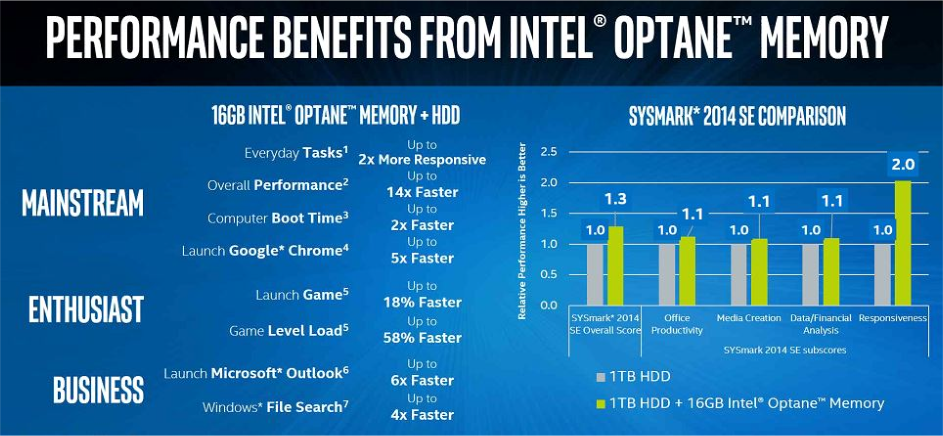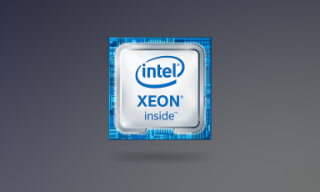 Xeon E3-1200 v6
The first Server processor from Intel that is neither a tick nor a tock, the E3-1200 v6 is a socket compatible optimization release to replace the E3-1200 v5 Skylake. Its most notable change is support for Intel's Optane memory technology, which is major new technology release from Intel.
Codename
Kaby Lake
Process Node
14nm
Platform
Greenlow
Socket
LGA-1151
Released
Q4 '16
Predecessor
Xeon E5-1200 v5
Skylake
Sucessor
Not yet announced
Core Count
4 (All SKUs)
Scalability
Single Only
TDP
72W
Memory
2x DDR4-2400
PCIe
16x PCIe 3.0 Lanes
Optane is designed to be extremely fast, yet inexpensive. It provides huge boosts in transaction reliability, real-time analytics, and interactive and immersive gaming experiences, benefiting businesses and consumers alike.
We encourage you to visit Intel's page on its Optane Technology to learn more.
Changes from Skylake
In addition to the aforementioned GPU bump to P630 from the P530 found in Skylake, The Kaby Lake Xeons are able to enjoy a fairly significant bump in maximum memory speed performance. In addition, Kaby Lake supports Intel's Optane Memory technology for the first time.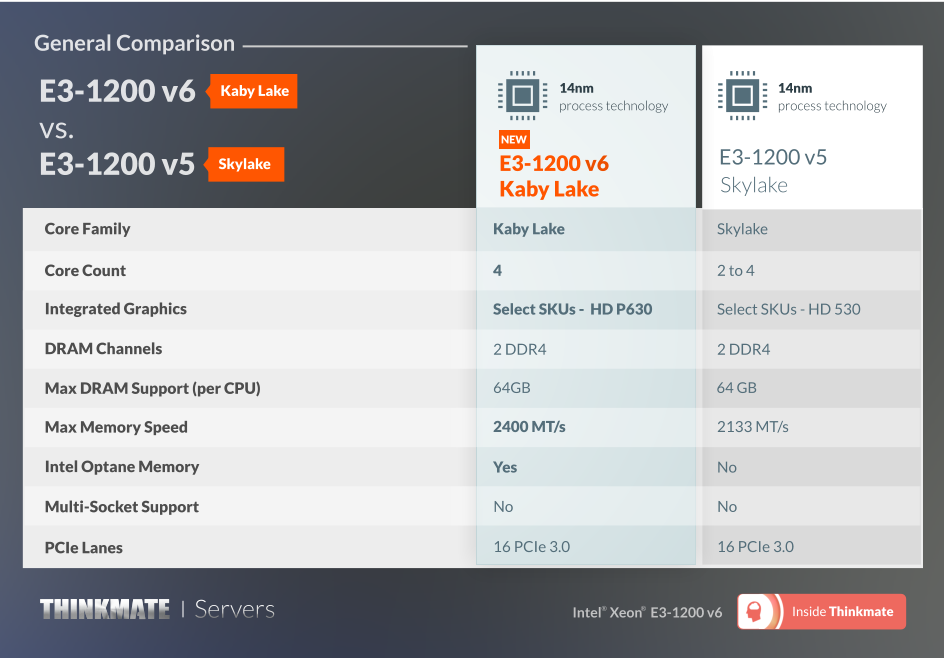 Conclusion
The Xeon E3 continues to be a great choice for entry-level designers, engineers and others who need not only adequate computing power, but the benefits exclusive to Xeon processors like ECC memory.
In terms of power, raw cpu performance isn't significally different from last year's Skylake, but amounts to a significant increase for those who follow the more common upgrade path - which in this case would be the E3-1200 v2. In this case, Kaby Lake offers an average of 50% increase in speed.
The addition of Optane memory support is a noteworthy addition, especially given the fact Intel is pushing this technology hard - giving its customers lots of options from the start.
Systems featuring Intel Xeon E3-1200 v6